PStv Capture
From SDA Knowledge Base
Console Information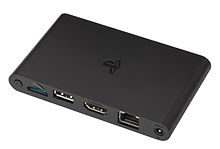 Playstation TV

| | |
| --- | --- |
| Resolution | 480p, 720p, 1080i, |
| A/V Outputs | Only HDMI |
Playstation TV
Sony's PlayStation TV or PS Vita TV, is a microconsole, and a non-handheld variant of the PlayStation Vita handheld game console. This drops support for Composite, Component, and S-Video connectors. The Playstation TV is only capable of high definition video resolutions and it only uses an HDMI connector. Because of this you cannot record gameplay from this console in standard definition. You need a high definition capture card with HDMI input and a HDCP Stripper in order to be able to record footage from the Playstation TV. For help finding a capture device that supports high definition, be sure and check out our list of capture devices

Note: The Playstation TV does use High Definition Content Protection (HDCP) when playing video games. This means that you should get a HDMI Stripper/Splitter that supports HDMI 1.3, connect the console to that device before using another HDMI cable to connect from HDMI Stripper/Splitter to HDMI supported capture device

Note: Capturing video in high definition is a very demanding process. You will need a powerful computer in order to be able to do this.
There is an HDMI supported capture card which does not use a PC/Laptop. Known as the Avermedia Game Capture HD 2, it requires an external hard drive or an internal hard drive which is then inserted into the device.
Resolution & Framerate, it can record 720p 60fps and it can record 1080p footage but only up to 30fps.